Furutech GTX-D NCF(R) : High-end performance Duplex NCF US receptacle
Furutech's Top-Tier GTX-D NCF Receptacles… Refinement has a New Name…
The GTX-D NCF manifests a devotion to best performance in every element of AC and signal transfer
Considering that what you actually hear is in a very real sense the direct product of the incoming AC then the final few feet are of prime importance for best performance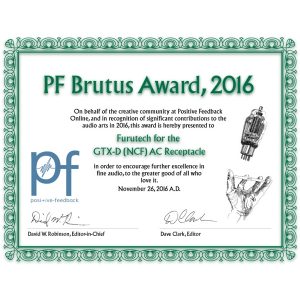 ---
---
Furutech GTX-D NCF(R) : High-end performance Duplex NCF US receptacle
Items Codes:
– GTX-D NCF(R): Rhodium-Plated
Features:
Furutech's Top-Tier GTX-D NCF Receptacles… Refinement has a New Name…
Nano Crystal² Formula (NCF) – Nano Crystalline, Ceramic and Carbon Powder:
Incorporated into select Furutech products, Nano Crystal² Formula — NCF is comprised of a special crystalline material that has two "active" properties. First, it generates negative ions that eliminate static and secondly, it converts thermal energy into far-infrared. Furutech then combines this remarkable crystalline material with nano-sized ceramic particles and carbon powder for their additional "Piezo Effect" damping properties. The resulting Nano Crystal² Formula is the ultimate electrical and mechanical damping material – only found in Furutech products!
The Pure Transmission Mission:
The GTX-D NCF manifests a devotion to best performance in every element of AC and signal transfer. Considering that what you actually hear is in a very real sense the direct product of the incoming AC then the final few feet are of prime importance for best performance
Of course everyone would love to make pure-copper receptacles, but its malleability – lack of stiffness – makes pure copper a poor choice. That's why you'll find less conductive metals like beryllium copper, phosphor bronze or brass in most receptacles. Furutech's intense engineering scrutiny has resulted in an industry-first, a technique allowing us to use special Furutech rhodium-plated α (Alpha) pure copper conductors strengthened and sprung by our innovative nonmagnetic Stainless Steel Conductor Spring System that keeps a firm grip yet won't damage male connector blades or their plated surfaces. But what really sets the GTX-D NCF receptacle apart is "NCF" – Furutech's ultimate damping material – Nano Crystal² Formula eliminates static, "interconverts" thermal, mechanical and electrical energy and damps vibrations. The GTX-D NCF can be summed up in a word; virtuoso!
All metal parts treated with Furutech's Two Step Cryogenic and Demagnetizing Alpha Process
• Rhodium-plated α (Alpha) Pure Copper Conductor (0.8mm) Nonmagnetic stainless conductor spring system
• Body material: Nylon/fiberglass with anti-resonance nano-sized crystalline, piezo ceramic particles and carbon.
• Cover material: Polycarbonate with a special anti-resonance nano-sized crystalline material "NCF"
• Parts set with nonmagnetic 2.0mm-thick stainless brace plate
• Specified for wire diameters of 4mm (set screw)
• Dimensions: 104.0 mm (L) x 47.2 mm (W) x 28.0 mm (H)
• Total attention to detail and build quality extends right down to a specially designed patent-pending conductor pressure plate that increases contact area
• Furutech spade terminal FP-205 recommended for 10 AWG wire
• Type: 2-pole + earth
• Rating: 20A 125V ac
Videos